It's DIY Thursday and this is my official second entry. WOOT!!
This beauty survived a house fire and was sitting in a warehouse with junk all over it. It had great bones, but was just a wee bit tired. I paid a whopping $25 for her, took her home and let her sit for a few weeks and air out (with the help of some charcoal to absorb the smokey smell).
From there she was sanded, sanded some more, and sanded still more.
FINALLY I decided her only hope would be some odor killing Kiltz and some good black paint.
About two years into our relationship, I saw this beauty in a magazine and KNEW "I" could m ake it happen.
So I went to my DFE (darling friend Everettt) and with pleading, begging eyes, convinced him that he could make it happen (confession - I had already tried. I had ripped off the top and that was as far as I got). DFE rolled his eyes and came over to pick up my sweet girl.
So DFE went to work (I so wish I had taken more pictures!) and SLOWLY she started taking shape.
(This is getting ridiculously long...)
FINALLY after weeks of sawing and sanding, only one near trip to the ER, more than one 'test' of our relationship (which resulted in "Look, I'll call you when I'm done, ok?), my girl was FINALLY ready to be picked up.
When she got to her new home (which turned out to be a new home for me too) I let her sit for a few weeks while I figured out how exactly to arrange her (something I'm TERRIBLE at). But finally I got her all arranged and I was LOVING it!!! DFE even made shelves out of her old top!!
Isn't she love-er-ly?

But, alas, I was never quite happy with how it all was looking and stuff, so NOW she sits by my front door, looking grand (as she should!).

Doesn't she just make your toes curl with glee? She does mine!!
I am NOT at all pleased with how she's decorated, but I'm working on that (Seriously? I have a red framed lamp and a pink matted picture? REALLY??) Yeah... I need to work on that one.

So if you're reading this it's because you wandered over here from either
The Shabby Chic Cottage
and their wonderful
Transformation Thursday
or
A Soft Place To Land
,
Thrifty Decor Chick
, and (last, but FAR from least - Between Naps on the Porch and their AMAZING Metamorphosis Monday and one or two others that I promise to come back later and link to, like
Hooked On Houses
(LOVE IT!) . So take grab a cup of coffee (and if you haven't tried
Storyville
, you haven't lived) and click away.
And one more place (because I fear y'all aren't totally tired of it yet).
Funky Junk Interiors
is hosting a Saturday Night Special. Check out some of the other COOL stuff!!
And ONE MORE!! (I'm sure y'all are sick of this post by now!!) Miss Mustard Seed has started a "
Furniture Feature Friday
" and well... yeah, I'm linking.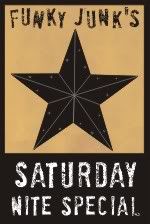 Enjoy!!

***UPDATE: I am so T-TOTALLY stoked!! Cheri over at
It's So very Cheri
gave me shout out! She is most definitely one my of my FAVORITE places to stop and visit daily. Check her out!***